Designer Tips: 7 Interior Details to Make Your Home Cozy
948

4 Min

|
October 1, 2019
Each person strives to create maximum comfort and coziness wherever he is. Indeed, even when traveling to the USA, many people prefer Sixt car rental in New Jersey instead of public transport, as the car interior is a personal space where nobody bothers you.
The house is another place where we rest both in body and soul. Therefore, it's really important to arrange the space so that we feel good and comfortable in it.
A few years ago, the world was captured by the hygge – the Danish philosophy of life, which fits into several rules. One of them is creating comfort at home and at work by using cute details, light shades, soft lighting, pillows and rugs, shelves with books, etc. But these are far from all ways to make your home cozy. Designers have their own tricks…
Consoles and stands
Even a small bedside table can set the style or become a bright interior accent. For example, if a house is made in light shades and everything merges, then a bright-colored stand will make the space more lively and interesting.
You can support such a stand with small accessories or textiles. But if the room has too many colors and textures, then it's better to choose bedside tables in the tone of the bed, and as a bright accent – a chest of drawers. The console and a small stand are ideally complemented by a mirror or a picture. The console can even be made an independent object, or it can be used as a table by sliding a chair or pouf to it.
Poufs, couches, and small chairs
Poufs, small armchairs and couches will add comfort to any interior. The couch, although it requires a lot of space, but placed in the corner with a floor lamp, a small table or a bookcase, will be an ideal place for rest and relaxation.
Small armchairs are best used as a color accent: they can be a separate area or next to the sofa. If you decide to combine, then choose the color of the chairs in contrast to the sofa. Poufs can serve as a coffee table, create comfort or be an accent. It all depends on the task and wishes.
Carpets
Add a carpet to any interior and the space will become much more comfortable. It can even make up for the absence of curtains. The main thing is to choose the right size.
The carpet will look profitable if all the interior items are standing on it. If you want warmth and comfort, choose a Persian rug of calm shades or a patchwork. If you need to finish the color, see that the picture was in one gamut, and not multi-colored. Remember that you need to avoid realistic carpets in the form of giant roses or fruits and rugs with inscriptions – they will steal both the style and the feeling of coziness.
Curtains
This element is perhaps one of the main components of a cozy home. Even Japanese or Roman curtains make the interior softer because they scatter light.
As a rule, they are matched to the color of another textile: a plaid, sofa, bed, pillows, carpet or chairs. It's advisable to avoid bright colors and colors, otherwise only they will be visible in the interior. And even if you really want to look rich, don't make lambrequins. They look appropriate only in a castle like Versailles. The best option is to choose curtains to match the walls.
Blankets and pillows
These home furnishings will make even the minimalist interior soft and vibrant. However, pillows shouldn't be small and flat: choose a size of at least 50×50 cm and 20 cm wide. Also, the plaids shouldn't be bright and colorful.
Pillows are easiest to choose for a shadeless sofa: for light sofa take 2-3 tones darker, while for dark – bright and colorful.
If it's difficult to choose, it's better to stop on one color, but take different textures. It's important to avoid variegation, but stick to the same style.
Paintings, panels and posters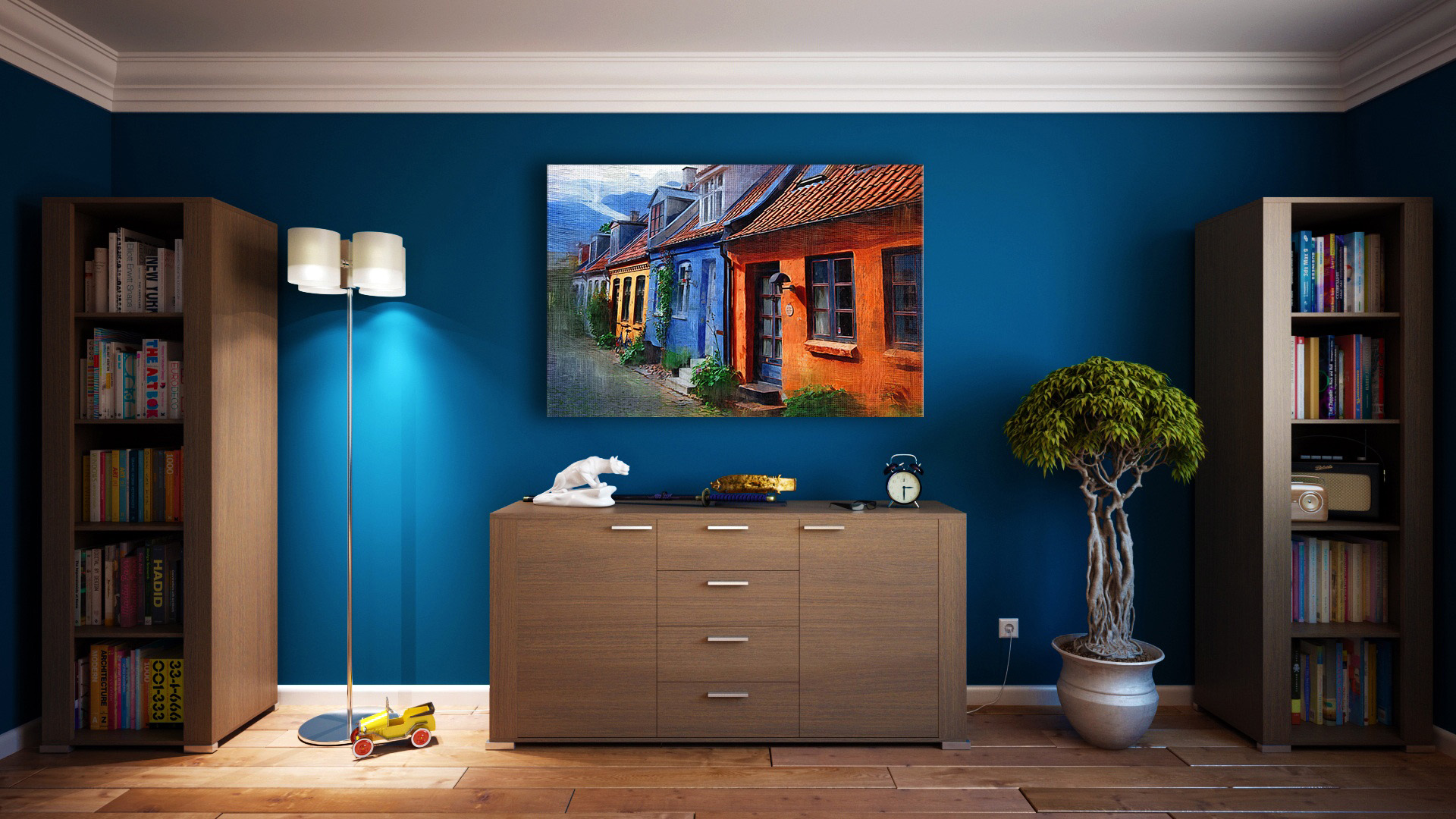 In order to create a cozy interior, you can use the paintings in all versions: small, large, standing on the floor, on special shelves, consoles or on a chest of drawers. However, you need to correctly calculate the distance for them to look good.
If the picture hangs on an empty wall, then from the floor to the center of the picture should be 150-160 cm. In case you place the picture above a sofa, chest of drawers or a bed, then measure the distance from this object, and not from the floor: it should be 20-25 cm. The major rule for the perfect arrangement of the picture – its width should be 2/3 of the width of the subject under the picture.
Mirrors
Mirrors visually expand the space, filling it with natural light. They can be used as an independent element of decor, or in composition, for example, hang with paintings or put on the console.
If there's a floor lamp or candles nearby, then the mirror will flood the room with warm light, which will help create a special atmosphere of relaxation and trust. A panel from several parts or a mosaic above the bed in the bedroom will look good. But remember that optimally the apartment should have not more than three large mirrors.